Sometimes you get to the point when the house you're living in simply doesn't meet your family's growing needs, and you need to decide whether to upgrade or upsize. But what if your current home is old and uninspiring… but you love the location, your close friends with all the neighbours, and no one makes a better coffee than the girls at your local café?
Or maybe have you found your dream block of land… only to discover the house sitting on it is old, strange looking, rundown, and doesn't suit your needs at all?
So should you renovate your old home or knock down and rebuild a new home on your dream block? It's a tricky decision and one you need to weigh up carefully before making a final decision.
Check out the pros and cons of renovating or doing a knockdown and rebuild before making a decision. Make sure you end up doing what works best for your family and circumstances.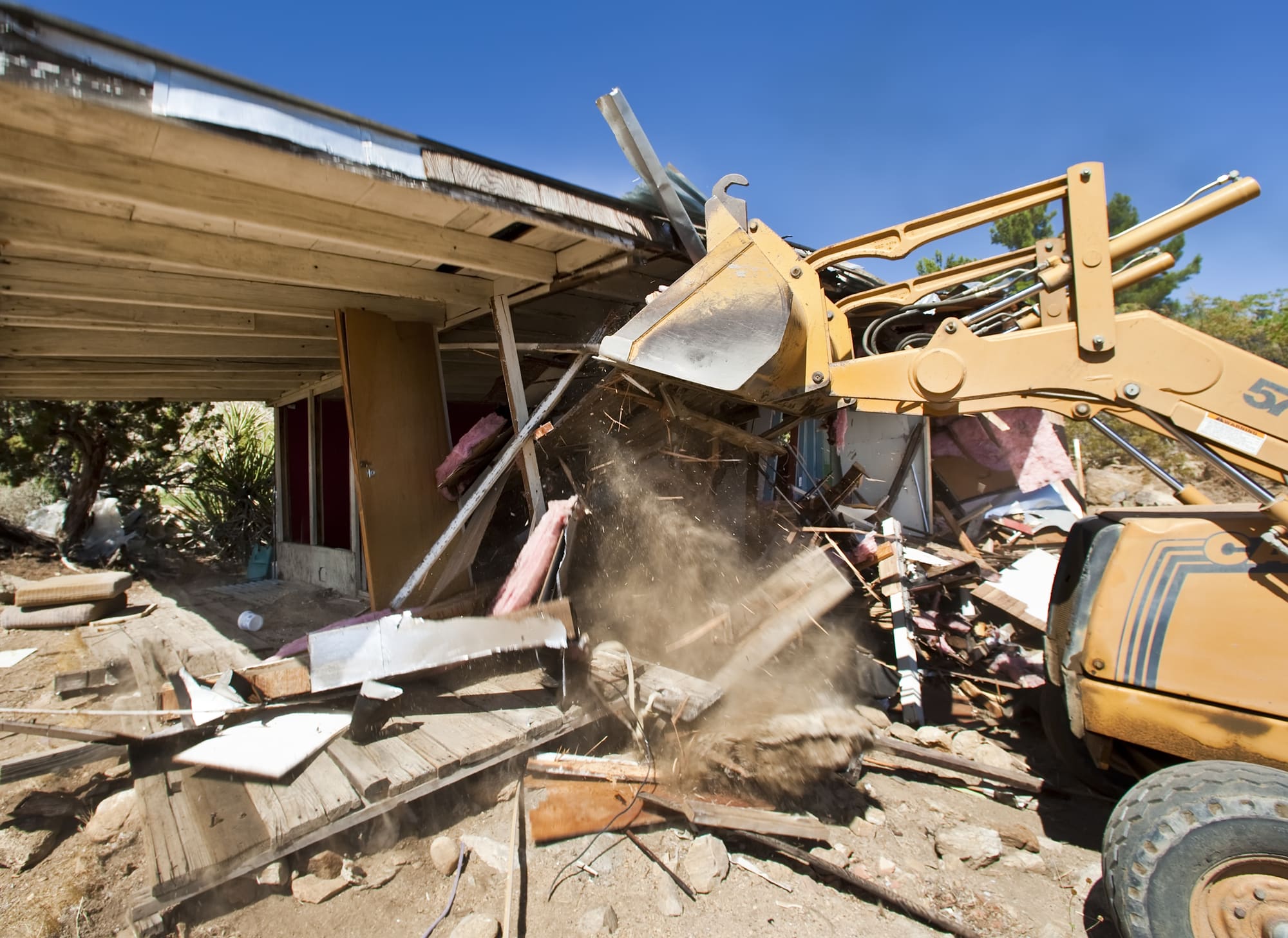 Pros of a demolition and rebuild
You will have the exact home that you have dreamed of, exactly where you want to live! If a fully personalised home in the street you love is what you are after – this is the option for you.
Increase in property value
A new house on an established block will be worth more than an older home on the same block.
Contactors do go through the rubble and sort it into recyclables that they can sell and non-recyclables.
This reduces the amount of waste that goes to landfill and makes the process more economically viable to the contractor.
If you require any parts to the building before demolition, always talk to the contractor before demolition begins so you can secure the features you want. The debris becomes the property of the contractor once demolition begins.
Improvements to the community
Demolishing old structures can bring a new lease of life to the neighbourhood and raise the value of the properties around them.
Modern homes in older areas can help attract younger families into the neighbourhood.
As a building age, it will lose some integrity. A demolish and rebuild will ensure that your home is as structurally sound as possible.
Removal of dangerous materials
In the 70s and 80s, many homes had asbestos built into them, making a knockdown and reno more cost-effective than removal and renovation when you are dealing with such hazardous materials.
Cons of demolition and rebuild
You will have to find somewhere else to live while the whole process gets done. You may end up paying for both the home you are living in and the home you are building.
Whilst the demolition is really relatively quick, the rebuild process takes time. A lot of time, so make sure you have plenty and then some. The weather and plenty of other unexpected surprises will often surface, leading to extra time being needed to complete the project.
The cost of a rebuild is always going to be higher than a renovation.
It can take a lot of time and money to get all the way through the process. Let's not talk about how much hair you might lose in the process, either!
Losing a piece of history
It's always sad to lose a piece of personal history when your home is demolished. Be prepared for the emotions it might bring up in you.
Safety and inconvenience factors
The noise and dust from a demolition might upset and inconvenience your neighbour, bringing acrimony and complaints. A professional demolition company will make the process as painless as possible. However, it may still cause problems for nearby residents.
There's no such thing as a free lunch, and a demo and rebuild isn't going to be cheap either. You'll have two processes to pay for, and you won't be able to live in your home until they are both complete.
You need to decide if the renovations will change things enough to give you the home you want when all the money is spent. Renovating a home in an established suburb is often a great idea. So, ultimately, it depends on your time, budget, abilities, goals and resources.
When you demolish and rebuild, you must move out and find where else to live. With a reno, you add the family not only have a roof over your heads but can stop and start the reno as time and money allows.
You can pick and choose what goes and what stays
The significant advantage to a reno is that you can keep any part of the house you absolutely love!
Add value to a character home
If you like in a cool but inconvenient home, a renovation will allow you to make things better while creating a better layout, more modern conveniences and a more comfortable living environment while retaining the charm that attracted you in the first place!
You get to stay where you love to be
Not only can you stay in your home for the entire length of most of the renovation, but you get to be in a place with all the things you know and love in the neighbourhood.
Construction getting in the way
Living in a home that is half construction site, half home for an extended period of time can put pressure on the family's harmony in an extreme way.
The never-ending renovation
Depending on your resources, reno's can sometimes go on for years…
Sometimes you come across an issue you didn't see coming and bam, you have a huge bill you didn't budget for. Wiring, plumbing and asbestos removal can get horrifically expensive very quickly, especially when they weren't on your "to-do" list. 
Both a knockdown and rebuild, and a renovation can be exciting, yet stressful and overwhelming. It's important for you to have a very clear understanding of what to expect no matter which way you go.
Keep in mind that both processes will be time-consuming, but the end result will be so worth it in both cases.
Talking to us about what to expect during a full or partial demolition to help you to have a better understanding of which option will be the best choice for you and your situation.
Call us today for a chat. We'd love to talk to you!
Get in touch with us today for a free quote