Concrete Removal in Melbourne
Are you looking for concrete removal services in Melbourne? If so, you don't have to look any further than our company. Whether you need a driveway removed or an old house demolished, we can handle it. Our team of professionals will take care of every detail from start to finish, so you don't have to worry about a thing.  
We are the best at what we do and can be trusted with your project. Whether it's small or large, we work hard to provide the highest-quality services to satisfy all of your needs. 
We are a company that specialises in commercial and residential concrete removal. Our team is experienced in removing old, broken, or damaged concrete from Melbourne properties. Our technicians will remove any type of concrete from your property with skill and precision. Whether you need us for a small project or something big, we'll take care of the heavy lifting so you don't have to worry about it.  
We also offer demolition services for any other construction needs you may have. We are the best at what we do. We are experienced, professional, and knowledgeable about all aspects of commercial and residential concrete removal. From demolition to disposal, our team will take care of everything.  
We are a specialist service that provides cost-effective solutions to those who need their concrete removed. Our company is committed to providing the highest quality of work in the fastest time possible, and to make sure you're satisfied at the end of every job.  
Whether you are a commercial or residential owner, you know that removing concrete can be difficult and time-consuming. So it is important to find someone who can do it right the first time around. 
Call Us Today If you Need Concrete Removal in Melbourne
Why Do You Need A Specialist To Remove Your Concrete?
Let's start with a basic fact: concrete removal is not a DIY project. The process of removing concrete can be dangerous, frustrating, and time-consuming if you do not have the proper experience and material. 
Concrete removal is a job that requires specialized equipment because concrete is a very heavy material, and it can be difficult to remove without the right tools. Our company has all the necessary items to remove concrete safely and efficiently.  
A specialist has experience that you do not, and thus they are able to demo and remove your concrete quickly and efficiently. Concrete removal specialists are trained to know the best way to remove any variety of concrete without damaging your property. 
You can save money by hiring a professional for the job. The cost of hiring a professional may seem higher than doing it yourself at first, but you'll save money in the long run.  This is because a trained technician will be more efficient than you will be at operating the equipment and doing the job. A specialist will be able to provide you with a quote for the cost of removing your concrete as well as an estimate on how long it will take them. 
Hiring a specialist means you don't have to worry about doing any of the work yourself. You want your project to go smoothly, so you should hire someone who knows what they're doing.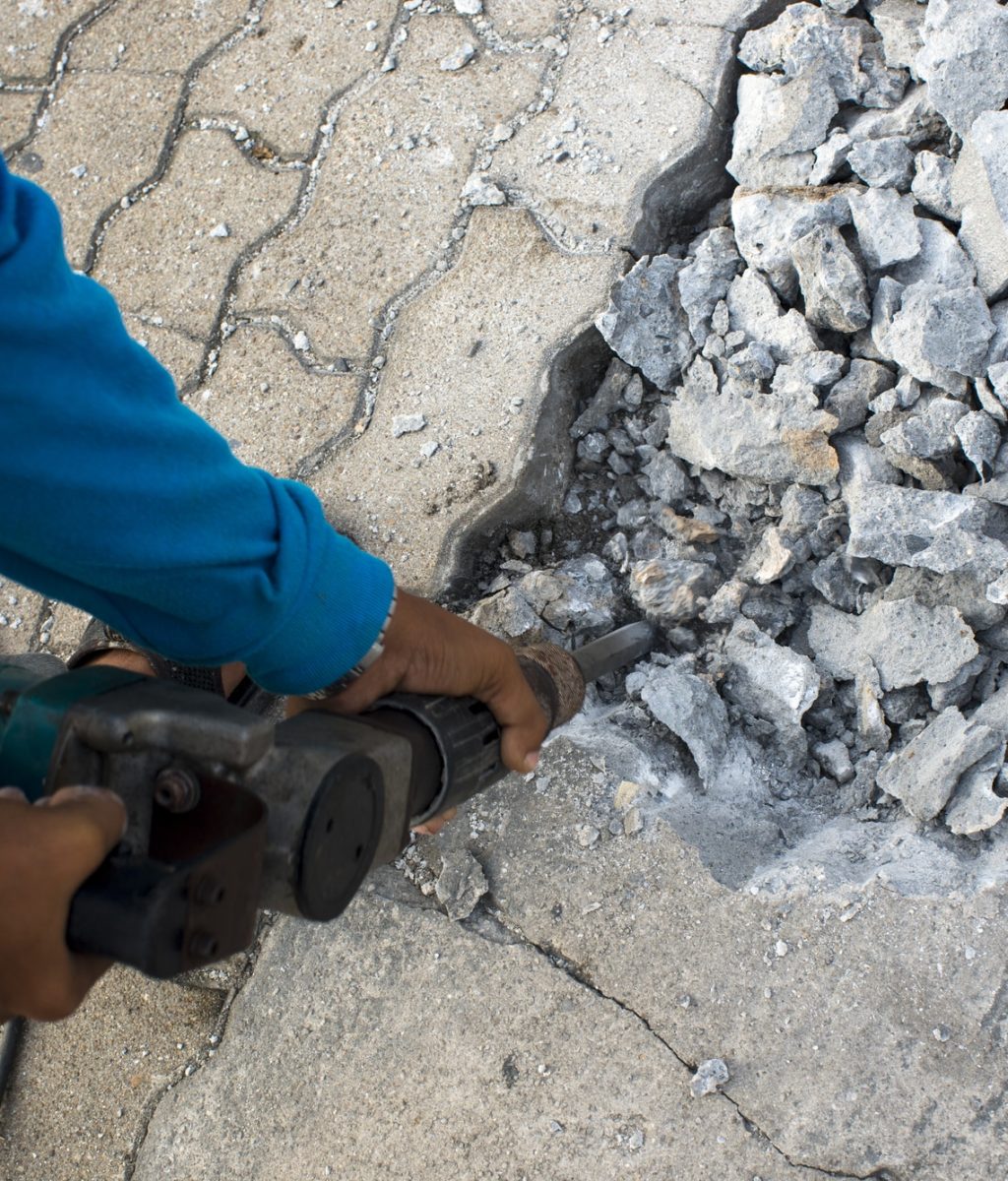 We are concrete removal specialists of Melbourne
How We Remove Your Concrete
Our concrete removal specialists can help you remove concrete from any part of your property – pools, patios, and walkways. We have a variety of removal options at our disposal, and the expertise to choose the right ones for your job. 
We can extract your old concrete with jackhammering, which is when we drill holes into it and then break it away through vibration. 
Alternatively, we can use saws that are specially designed to cut through concrete to remove it. These cutters come in hydraulic, petrol, and electric-driven models that we will choose from based on the job at hand. 
We can also use a process called "hydro-demolition," which is when we use high-pressure water to blast the concrete.   This takes the concrete off layer by layer but leaves the underlying structure and rebar intact. 
We choose the method based on the needs of your project and what you are looking to accomplish. 
After your concrete has been broken into manageable portions, we'll transport it away from the site using a variety of different ways, including backhoes, loaders, and even wheelbarrows if need be. 
Since concrete can't generally go into a rubbish container or skip bin, we'll load the pieces into a truck or trailer and take them away. Because we are strong promoters of environmental stewardship, we will recycle and reuse as much of your concrete as we possibly can. 
Some ways that we do this is by creating: 
Concrete Removal Melbourne
If you're looking for a reliable company that can handle all of your demolition needs, we would love to be the one you call.  
You deserve the best service around. That's why you should contact us today for your free estimate on whatever project you need to be done. Whether it's just one small spot or an entire house, we can handle it all with ease.  
Here are some of the benefits you will see when you work with us: 
We are the best company to remove your concrete. If you need a reliable, honest, and affordable removal service for old pavement or concrete, look no further than our team of experts.  
Our specialists have the knowledge to remove any type of hard surface from driveways to patios. And with over 20 years' worth of industry knowledge, we know how to get every job done right and on time. 
Call us today for a free quote on concrete removal in Melbourne